Zagers has these Doughboy pools in stock, but we can order any model on the Doughboy website.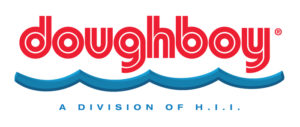 All Doughboy pools feature a manufacturer's warranty on all components!
Doughboy Pool Liners
Your pool will last longer as it glitters in the sunshine with the right above ground pool liner.
Only Doughboy's True Expandable Liners are designed to expand smoothly into a deep swimming area for more underwater fun – up to 7-feet deep!
Zagers offers several in-stock pool liners, or can custom order any liner you wish!
Read The Truth About Doughboy Liners on our Blog.
Zagers Makes Buying a Doughboy Pool Easy
As the local, premier dealer of Doughboy Pools, Zagers outshines other pool dealers in every way!
Our experts have helped families get the right pool at the right price for over 50 years.
Zagers makes pool installation easy too! From preparing the ground, to filling it up completely with water, we take care of everything.
Stop by any of Zagers' 5 West Michigan Locations to see them in action!
Each of our stores has an outdoor courtyard filled with pools for easy side-by-side comparison. Contact us today for more information.