About Zagers Pool and Spa
West Michigan's premier pool and spa dealer, Zagers helps you become the envy of your neighborhood!
Our friendly experts guide you through the sea of options to select the perfect pool or hot tub for your family's size and entertainment needs. And then help you keep it sparkling clean.
Visit Zagers' pool parks and spa showcases at any of the 5 West Michigan Locations to browse and compare a huge selection of the leading brands.
Jump into Sharkline or Doughboy above-ground pools for long-lasting family fun.
Step into a custom in-ground pool that transforms your backyard to a luxurious oasis.
Soak in spas by Jacuzzi, Dimension One and Mira for the ultimate in relaxation and hydrotherapy.
We not only help you make the right choice for your family, but also install and service your pool and spa to ensure your enjoyment for years to come.
Your backyard oasis awaits at Zagers!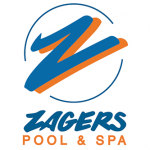 The History of Zagers
Zagers Pool & Spa started as nothing like you know us today. In 1959, the Zagers family owned a hardware store in Jamestown, Michigan. They purchased a doughboy pool for their own family and loved it so much that they purchased a few pools to sell at the hardware store.
Some of the first Doughboy pools ever sold were actually installed by the Zagers family!
As the Zagers Hardware store closed in the early 70's, Zagers Pool opened in the family garage. A few years later, a warehouse was built on property adjacent to the garage. In 1981, showroom space was added and to this day is in the heart of Jamestown.
Bill Zagers sold the business to Ron and Nancy Zagers in 1982, with Bill staying very active in the operation of the store.
In 1990, Zagers Pool opened a second store on Lakewood Blvd in Holland, MI to better serve the lakeshore area. A short year later, hot tubs and spas were added to the product line, and the business name.
In 2005, Ryan Miedema, the Jamestown store manager for many years, became the owner of Zagers Pool and Spa. He started working for Zagers while in high school, and his experience, innovation, and energy have brought even more life to Zagers.
Ryan added a third store in Grand Rapids on Shaffer Avenue to better serve families in the area, as well as 2 more locations, on 36th Street in Wyoming and on Fuller Avenue in Grand Rapids.
With five West Michigan locations, the staff at Zagers Pool & Spa are ready to assist you with outfitting your backyard to be the ultimate home vacation! In addition to above ground and in-ground pools, you'll find pool supplies and chemicals, toys, covers, liners, patio furniture, outdoor kitchens, pergolas and grills.
Our owner and staff are committed to providing high quality, long lasting products at the best price for your budget.