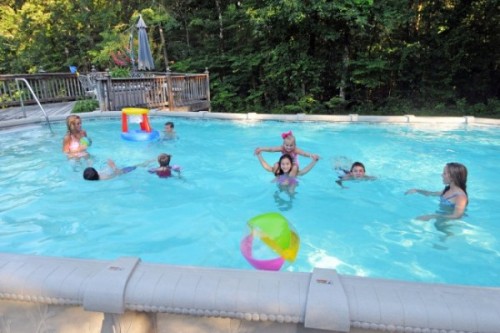 Pool Safety 101
September 6, 2015
Implementing and enforcing pool safety is an important task for pool owners to take on. When purchasing a pool, consider the added responsibility that it requires to take care and maintain a safe pool area. This can include: the proper signage, warnings, fencing, and pool covers. Below are some suggestions on how to create and facilitate a safe and family-friendly pool environment.
Fencing
In the past, fences were optional across the US. Most cities now require fencing around any in-ground or above-ground pool. According to the Consumer Product and Safety Commission, fences should be self-closing, self-latching, child proof and at least 48″ inches tall. The gate and fence do not have to be anything extravagant, just tall enough to prevent easy access by children on pets.
Signage
Owning a pool carries potential liability and responsibility to protect strangers, friends and family. Pool signage is a necessity for both public and residential pools. According to the State of Michigan, here is what's needed for private pools. 
A sign containing the number to dial in the case of an emergency. 

The bather capacity limit should also be posted within the pool enclosure. 

For pools with water slides or shallow or non-diving depths, a sign that warns against headfirst sliding, slide diving and other incorrect uses of the slide must be attached to the side. 

Also make sure that all posted signage is visible and legible. A good spot to post any pool signage is near the entrance to the pool, free from any visual blockers.
Safety Covers
Installing a safety cover is a great idea especially if your pool needs to be closed during the winter months. Safety covers provide a hard surface over top of your pool to prevent children or pets from falling in. Safety covers are available for both in-ground and above-ground pools. Pool alarms are also available. They sound an alarm when their sensor is tripped – i.e. when something falls into the pool.
Extra Tips
Always keep children under supervision at all times. Never allow children or adults to swim alone – designate somebody to act as a "swim buddy." It is a good idea to maintain your pool and hot tub's chemical levels. Monitor circulation and filtration as well to ensure clean and clear water. Investing in pool safety equipment is also a good idea. Items such as a lifesaver, Shepherd's hook and life vest are important precautionary devices to have in the pool area.
Finally, pool safety is not exclusively a summer month activity. It is a year-round practice that requires attention.
Have a swimming pool or hot tub related question?  Contact Zagers Pool & Spa by email or phone at 616.896.1717 today!