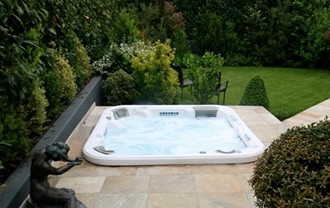 Hot Tub Tips & Advice
December 27, 2015
Tips & Advice for Hot Tubs
Entering the spa world can be a lot of work. Whether it's knowing how to set up and start the hot tub, or knowing how to properly balance the water. Below is a list of helpful tips to help you navigate through the hot tub world. Keeping the tips below in mind will lead to a more enjoyable hot tubbing experience.
Cleaning Tips
Bleach the Cover


Thermal covers are notorious for having a musty/mildew smell. To prevent this, use a small amount of bleach in the cleaning process. Mix about 10% bleach into 90% water and wipe down the bottom of the hot tub cover every 90 days or so.
Spa Filter in the Dishwasher


Filters can sometimes be tricky to clean. A great way to clean them is to run them through a cycle in the dishwasher. Make sure that it is on the top shelf of the dishwasher when washed, this will prevent any possibility of the plastic melting.
White Vinegar for Jets


If the jets and valves build up a large amount of calcium, try using white vinegar to clean them.  Similar to faucet and shower heads, vinegar is very effective at removing mineral deposits.
Chemical Balance Tips
pH over Alkalinity


The most important water balance to keep in check is the pH and alkalinity. Balancing the two can be difficult. Adding a total alkalinity (TA) booster often raises the pH to above a 7.8, leaving an unbalanced mixture between the two. Next time you find yourself in a battle between the two, try adding sodium bicarbonate instead of sodium carbonate. This will help raise the pH as well as the TA.
Enzyme Products


Enzyme products help break down "fatty lipids." When these are broken down, other sanitizing agents (chlorine, bromine) work much better. Enzymes also help remove the "scum line" that may occur at the water line around the tub.
 No Pool Chemicals


Avoid using pool chemicals in your hot tub. Most chlorine tablets used in swimming pools are very concentrated, as they are used to treat a large body of water. Using these tablets in a spa could lead to a sharp drop in pH as well as an extremely high level of chlorine, obviously. This applies to liquid chlorine as well as it contains large amounts of salt, causing pH, hardness and alkalinity to increase significantly.
Additional Tips
Have a second set of spa filters, having another spa filter guarantees that there will always be a clean filter ready to go when it is time to switch. Also, use two spa covers. It is recommended to have a floating cover, and a regular hard top cover. This will help to make the hot tub more energy efficient.
Have a swimming pool or hot tub related question?  Contact Zagers Pool & Spa by email or phone at 616.896.1717 today!