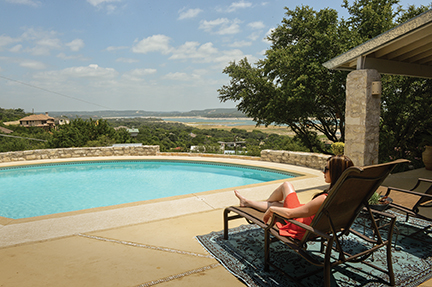 Everything You Need To Know About Vinyl Pool Liners
October 11, 2015
When it comes to selecting the liner for an in-ground swimming pool, there are a few different options. Concrete, tile, fiberglass and vinyl are all suitable options based on the needs of the pool owner. Essentially, the "liner" is responsible for holding the water in the pool, and providing aesthetic value to the pool area. Depending on the situation, the cost of a liner can vary greatly. This article will touch on the different aspects of vinyl pool liners, and what should be considered when purchasing.
First off, vinyl pool liners are great for in-ground and above-ground pools. This makes them the most popular option among pool owners. As mentioned above, their purpose is to prevent leaks and keep water inside the pool. Their other goal is to provide an aesthetically pleasing background for the pool area. Many stores and distributors offer several different patterns to accommodate any design scheme. Another huge benefit of vinyl liners is that they are available in different sizes and thicknesses. Fiberglass pools specifically, are only available in predetermined sizes and shapes.
Gauge – Mil (Thickness) Considerations
When deciding what the best liner thicknesses for an in-ground pool or above ground pool, a variety of factors should be considered. The most important consideration is sun exposure. The location of the pool in relation to the amount of direct sunlight will affect the thickness needed in order to prevent premature fading and damage. If the pool will experience longer exposure to direct sunlight throughout the year the preferred mil should be 28-30. Although the thicker mil liners tend to cost an average of 5-10% more, they will provide an adequate layer of protection to help prevent premature damage.  Also, vinyl liners will provide the same smooth surface regardless of the mil chosen.
Maintenance Considerations
The most important aspect of maintaining vinyl pool liners is water chemistry. Water balance is a huge factor in keeping not only the pool healthy, but the liner as well. The most important factor of water chemistry is pH. The pH should never fall below 7.0, which would mean it is acidic. When the water is this acidic, it can cause complications such as permanent wrinkles and premature aging. An important tip to remember when draining and filling is to never drain the pool to where there is less than one foot of water in the shallow end. Pool liners rely on pressure to maintain a wrinkle free, smooth liner. When too much water is removed, the risk of the liner shrinking increases. Your local Zagers Pool and Spa location can help you make a selection that is right for you! 
Have a swimming pool or hot tub related question?  Contact Zagers Pool & Spa by email or phone at 616.896.1717 today!