What to Consider Before Buying and Installing an In-Ground Pool
March 16, 2018
So, you've decided it's time to put an in-ground pool in your yard – congrats! Undoubtedly, you (and your family) are excited at the mere thought of summers in your very own pool.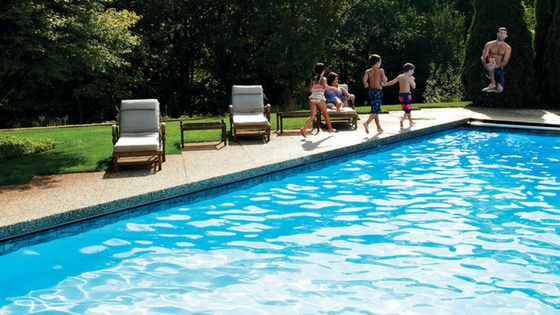 Before you can jump in for your first swim, there are some important things to consider when buying and installing a pool. So, let's jump into those first.
As long as you are proactive and plan accordingly, we can safely and efficiently install your new in-ground pool and add a whole new world of fun to your summer.
Before Buying Your In-Ground Pool
Check Your Neighborhood's Rules, Regulations and Bylaws
If you are part of a neighborhood association, there are more than likely rules pertaining to pools. In rare cases, pools (or certain types of pools) may not be allowed at all. Make sure this doesn't apply to you before you get too far into planning.
Once you've confirmed you can install a pool, check the specs, both with your neighborhood and the township. You'll need to adhere to rules on how close to the house, other structures, and lot lines your pool can be, as well as specific fencing regulations.
Also consider that pools can't be located within 20 feet of overhead power lines, within 10 feet of a septic tank, or on an easement, unless you've received special permission.
Plot Your Pool's Location
You'll want to make sure you're getting a pool of the right size and shape, and that you have the right space in your yard, before pulling out your credit card. It's okay if you don't know exactly where you want to place your pool. Zagers will come out to your house to assess your property and give recommendations.
Most important: Your pool should be in an easy-to-see spot, so you can properly supervise swimmers.
Ideally, we'll install the pool away from trees, as falling leaves can be a detriment to your filter and are extremely annoying – especially if you're the one doing the cleaning.
Consider what's already underground. Will a sprinkling system need to be moved? Are there gas, power, or phone lines that need to be located prior to digging? If you're unsure, you'll want to dial 811 to get the information before you dig. But if you're working with us, don't worry about it – we'll call MISS DIG on your behalf.
Now, you're ready to buy your pool!
Before Pool Installation
When you work with Zagers, we'll need to go through everything we just discussed prior to purchase, ensuring we can do our job installing your in-ground pool safely and efficiently while adhering to all rules and regulations.
Get a Building Permit
Just about every city or township will require a building permit, and electrical permit before a pool can be installed…and depending on the situation and township, even a zoning permit, a soil and erosion permit, or a fence permit may be required…phew! Sounds like a lot, but don't worry – Zagers will take care of all of this for you, too. We'll do the legwork to figure out exactly what you need, and we'll get the permits on your behalf.
Determine the Specifics
In addition to the exact location of your pool, we'll need to decide where to place your skimmer and return (inlet and outlet, respectively). The location of the skimmer will also determine where the pump and filter will go, which further determines where the electrical outlet goes. There's a lot that goes into this, and we'll help you along the way.
Prep for Excavation
We'll need at least 20 feet of clearance to get our excavation equipment into your yard. If you have a fence, you'll need to make sure you can remove enough of it to accommodate.
Also, if you have an underground sprinkling system, mark the heads. This will ensure our equipment avoids running them over during installation.
What About the Dirt?
Digging a big hole means we get a big pile of dirt. Do you have somewhere for us to put it? If not, we'll haul it away for you at a small additional charge (the closer to your home, the less expensive it is).
Work with an Electrician
The electrical hookup must be performed by a licensed electrician. If you're working with Zagers, all electrical is taken care of by our installation team to ensure proper hook up of equipment, pool lights, and bonding. (Did you know? Bonding ensures swimmers do not come in contact with any stray electrical currents. An important step, for sure!)
A swimming pool is a lot of fun – and that's exactly why you want one, right? With a little planning before buying, and the proper preparations before installation, your family can get to the fun as quickly and safely as possible.
We're ready to help you build the pool of your dreams – contact us to start the conversation!