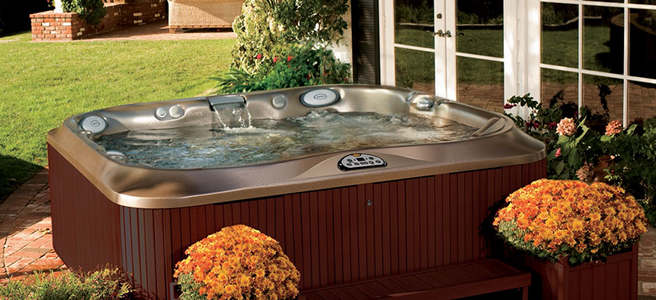 5 Ways to Stay Safe, Relaxed and Happy in a Hot Tub
August 2, 2016
5 Ways to Stay Safe, Relaxed and Happy in a Hot Tub
Spas help people relax and unwind after a full day. They are also a fun way to spend time with friends and family in a festive, easy-going atmosphere. Whether it's your sanctuary or the family's party central, keeping these tips in mind will help everyone stay safe, relaxed and happy in the hot tub.
Strength in numbers.  
There's safety in numbers, especially when you're in or near water! Try to buddy-up with a friend or family member when you want to use your hot tub – and insist that guests do the same. In the case of emergency, an extra person can make a huge difference.
Install appropriate guard-rails and covers.
Guard-rails are a must-have to enter or exit a hot tub safely. They are used for balance and to prevent slippage. Available in a wide array of styles, they can bring an additional element of design to your outside oasis. Covers prevent unwanted items from entering your hot tub when not in use, increase energy efficiency and if latched or locked, can protect from accidental injury.
Keep it clean.
Keep your hot tub germ-free by regularly draining the water and applying disinfectant solutions to the surface of the tub, making sure to rinse well before refilling. Maintaining the proper chlorine levels or salt-content, depending on what kind of water purification system you use, is another way to ensure a safe and cleanly environment for all hot tub goers. For more information on hot tub maintenance click here.
Stay Hydrated!
A body's natural response to high levels of heat is to sweat. Increased sweating can lead to dehydration if not careful. Surrounded by water in a hot tub, you may not realize you are sweating and begin to feel drowsy, drained or unable to concentrate. Not a good combination while in water. Drink plenty of water before, during and after enjoying a hot tub. Grab a pitcher of ice-water and throw in some lemons, cucumbers or strawberries for a refreshing and wholesome drink. Alcohol can contribute to dehydration and adversely affect decision-making, so keep adult beverages at a minimum.
Be a responsible host.
When hosting a neighborhood party or having friends over to enjoy the spa experience, make sure everyone understands the hot tub safety rules. Have a hot tub guideline sign visibly posted to help your guests understand that safety comes first. Get familiar with the health needs of your guests as well. Does anyone have a heart condition? Is anyone on medication that could make them drowsy or otherwise impaired when in a spa setting? Knowing these things ahead of time will help you take the lead on spa use and help everyone stay safe, relaxed and happy in a hot tub.