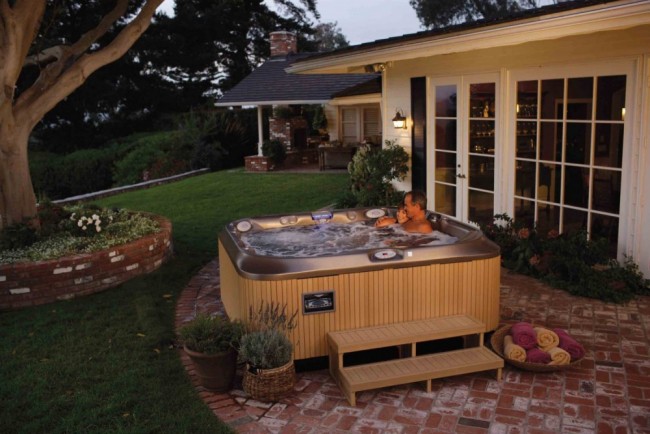 How to Make Your Hot Tub Energy Efficient
July 12, 2016
You've finally done it! You purchased a hot tub or in-home spa and can't wait to jump in! After one month of pure bliss you receive your first energy bill and the enjoyment begins to subside (as does your cash flow).
This scenario can be easily avoided if, prior to purchasing your dream hot tub, you learn what spa features will help reduce energy usage and lower monthly operating costs. Understanding energy saving factors will help you make the best choice for your family and your budget, ensuring enjoyment lasts beyond the first month.
Hot Tub Covers and Wall Insulation
Hot tubs generally use electric energy to both heat and circulate water. Although they are covered and unused most the time, this is when the most energy is used. Becoming more energy efficient starts with optimizing your hot tub's rest mode with insulated walls and a high-quality cover.
Michigan winters can be brutal and an outdoor hot tub is a great way to stay warm and happy – even in sub-zero temperatures. Purchasing a quality cover that is both insulated and provides a tight seal to the tub will help control "rest mode" hot tub operating costs by making sure the heat stays in and your costs stay down. A cover's insulation should be made of closed-cell foam to prevent it from absorbing water. A high-quality cover is also well supported and will not sag in the middle after elongated use. Purchasing a floating thermal blanket to be placed under the cover when not in use can also improve heat retention and protect your cover from chemical damage or condensation.
Purchasing a thermally insulated hot tub can not only reduce heat loss, but also reinforce the exterior hot tub structure. Thicker is not always better though and experts suggest an average foam thickness of around 6 inches to receive optimal energy savings. Keep in mind that if you purchase a hot tub that uses fiber glass insulation it may be cheap up front, but when that fiber glass becomes wet, it's insulation properties diminish greatly.
Pump Efficiency
Many hot tubs have one circulator pump that continuously pushes water through the tub's filter and heater. Some come with a two-speed motor for both low-speed and high-speed circulation. These kinds of pumps are not known for being very energy efficient. Purchasing a hot tub with separate pumps for circulation and jets (while a little more expensive up front) will provide increased energy savings over time.
There are a few additional heat-saving measures that could be implemented to help reduce energy consumption. Installing heat controls that automatically change the hot tub's temperature when it's not in use would maximize the energy available and reduce utility expenditures. The size of your hot tub should also be a consideration – the bigger the space, the more it will cost to heat the tub. Lights, while not a huge energy sucker, also play a part. Consider using high-efficiency LED hot tub lights that will reduce your energy bill and are environmentally friendly as well.
The age of the hot tub can also be indicative of consistent energy loss. Sometimes, retrofits and small improvements just aren't enough to improve the efficiency of an old hot tub that wasn't built to hold the heat. Due to technological advancements, new hot tubs are naturally more energy efficient and made to not only provide the ultimate in relaxation and fun, but energy efficiency and financial savings as well.
Check out our hot tub buying guide to get started.
Sources:
http://www.consumersearch.com/hot-tubs/hot-tubs-and-energy-use
http://www.energyideas.org/documents/factsheets/eef_spas_hottubs_sept08.pdf
http://www.energyideas.org/documents/factsheets/spatips.pdf
http://www.spadepot.com/energy-conservation.htm