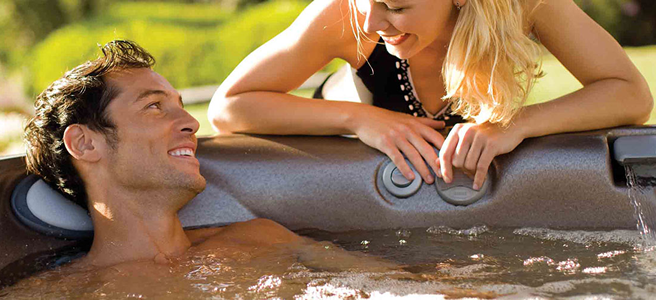 Hot Tub and Spa Hydrotherapy
March 15, 2016
One of the best reasons to invest in a hot tub are the benefits brought on by hydrotherapy. Hydrotherapy, simple put, is a natural therapy that combines air, water and heat to massage away aches and pains. Hydrotherapy has been used for thousands of years and is used today by doctors, psychotherapists and health spas around the world. Home spas allow the benefits of hydrotherapy to be achieved in the comfort of your own home. This article will go over the various therapeutic benefits of hydrotherapy.
Three Components to Aquatic Therapy
Heat
Immersion in hot water raises body temperature and causes your blood vessels to dilate – this increases blood flow and circulation in the body. A water temperature between 94° to 96° F is great for reducing tension. This temperature is close to the skin temperature and will lead to better results, as far as tension goes. Most have reported that having a water temperature between 102° to 104° F is great for soothing and loosening tight/tense muscles. This temperature is also great for reducing the pain of stress-related conditions, such as backache. Do note that it is NOT recommended to raise the temperature above 104. This high of temperature causes the body temperature to rise too fast, resulting in an "artificial" fever.
Buoyancy
Due to buoyancy, body weight is reduced by approximately 85-90 percent. This helps relieve the pressure associated with achy joints and muscles. While consulting a doctor is recommended, studies have shown that because of water's buoyancy properties, hydrotherapy can be very effective for easing the pain of arthritis, as it relieves stiffness and improves range of motion. On the other side of that, the small amount of resistance on the body makes hot tubs an ideal place for rehab and physical therapy exercises.
Massage
The massage action of a spa is created by sending a mixture of water and air through the jet system. This powerful, energized warm water relaxes tight muscles and stimulates the release of endorphins. The function of hot tub jets are designed to bring the maximum amount of stress release and relaxation.
Combine the perfect temperature, a feeling of weightlessness, massage jets and you have the recipe for unparalleled relaxation and home therapy.
Bonus Benefit – Better Sleep
According to the National Sleep Foundation, nearly 40% of men and 50% of women suffer from some sort of sleep ailment. The good news, soaking in hot water 1-2 hours before bedtime triggers your internal thermostat to lower your body temperature, allowing sleep to set in more easily. This provides a more natural, drug free way to achieve a good night's sleep.
Have a swimming pool or hot tub related question? Contact Zagers Pool & Spa by email or phone at 616.896.1717 today!