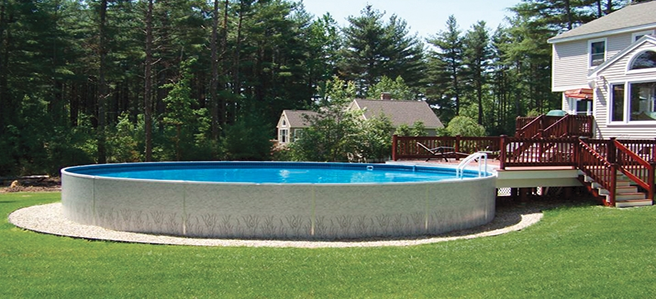 Four Things You Need To Know Before Purchasing Above Ground Pool
May 13, 2016
  Investing in a pool is a big decision. Both in-ground and above ground pools can lead to incredibly rewarding memories. Like any other big purchasing decision, you need to be informed. The best way to gain insight and information on the newest models and sizes is to visit your local pool experts. This list will help give background knowledge on a few considerations before making the decision.
Having a quality liner will not only improve the appearance of your pool, but it will increase it's life. The gauge or thickness of the pool liner will have an effect on the durability. The standard gauge for vinyl liners is around 20 mil. While this is the standard for most pools, consider the amount of use your pool will get. Investing in a thicker liner might be a good idea if pool parties are probable. Additionally, thicker liners provide superior protection from UV rays.
In most cases, clean fill sand is the traditional base for above ground pools. The foundation acts as a barrier between the ground and the liner. It helps to protect the liner from stones, tree roots and any other hard objects. Additionally, it provides a softer cushion underfoot. This gives sand a bit of an advantage over other popular foundation fillers, such as gravel. While sand isn't always the best choice, your pool professionals will be able to recommend the perfect option. Padding is also available. Padding helps prevent material from growing or puncturing the liner, and adds a layer of cushion.
Picking the Right Wall Material
Above ground pool walls tend to come in three different materials: aluminum, steel and plastic. Based on budget and length of life, the best choice can vary from situation to situation. The main benefit of aluminum is it does not rust. Steel tends to have a longer life than aluminum, but is prone to rust if not coated and treated properly. While plastic or resin based pool walls are new to the scene, they are one of the most attractive options on the market. Resin walls don't rust and they have a good shelf life. Steel-resin hybrids are also becoming increasingly popular.
Choose the Right Pump and Filter 
Above ground pool pumps and filters work hand in hand. Selecting the correct size pump for the appropriate amount of water is crucial.  One advantage of above ground pumps and filters is that they are sold together as one unit – this eliminates any confusion on compatibility. Similar to in-ground pools, there are 3 options for pool pumps: sand, cartridge and D.E. Each one offers a unique set of pros and cons. Consult your local pool professionals to see what pump will work the  best for your pool.
Have a swimming pool or hot tub related question? Contact Zagers Pool & Spa by email or phone at 616.896.1717 today!