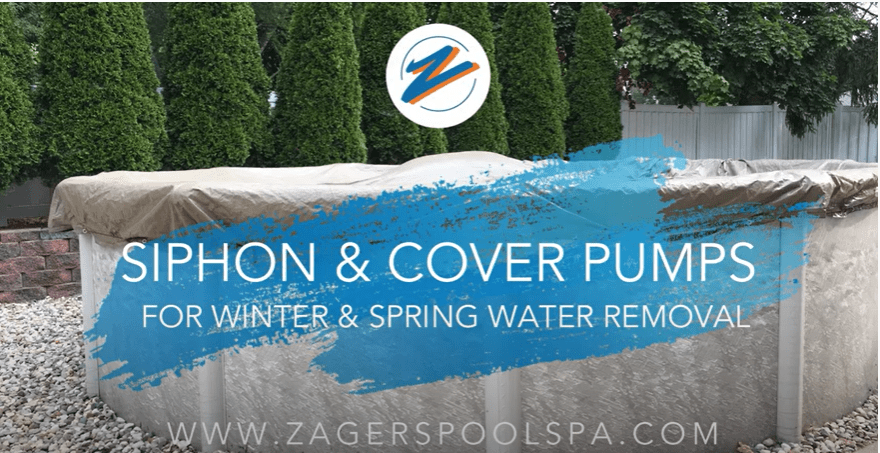 Before we talk about using a cover pump to take water off, let's talk about leaving water on. You want to make sure you always keep at least six to eight inches of water on your pool cover throughout the winter. When the wind inevitably gets in there, the water helps hold the cover down and prevent it from ballooning up and wrecking itself.
Now let's dive into cover pumps. When do you use them? How do you use them? Which one is the best one for you?
Use a Cover Pump Prior to Opening Your Pool
Although water on the cover is a good thing during the winter, you don't want any water on there when opening your pool. That's when you need a cover pump. You may want to pick up a cover pump from us when closing your pool or getting your winter supplies. That way, when it's time to open the pool, you're ready to go.
Types of Cover Pumps
At Zagers Pool & Spa, we carry five types of cover pumps, all of which are good products. We'll go through them here from least to most expensive.
Non-Electric Cover Siphon
The non-electric Cover Siphon simply drops down on the cover. Attach the hand pump, start siphoning and let it go. While it doesn't have any gallons-per-hour ratings listed, you can expect it to drain the cover in three to four days.
Pumps Away
Very easy to use, you plug in the Pumps Away (using its included 25-foot cord), attach a garden hose and let it run. When it's going, it goes. You'll need to remind yourself to unplug it when it's finished as it doesn't have the technology to turn itself off, but it's a great product to run until your cover is dry.
Genius 350
Like the Pumps Away, the Genius 350 touts 350 gallons per hour, attaches to a garden hose and has a 25-foot power cord included. The main difference is the Genius 350 will turn itself off, so you don't have to think about it. It also turns itself on, which can be extremely handy as you get close to pool-opening time. If you leave the Genius 350 on your cover for a month leading up to opening the pool, it'll keep your cover clean every time it rains and you'll never need to worry about turning it on or off.
Genius Pro 800
The next step up, the Genius Pro 800, also has a 25-foot cord and will turn itself on and off with the auto switch. This one separates itself by being completely submersible. The Genius Pro 800 sinks down and draws the water toward itself, which it drains at 800 gallons per hour through an attached garden hose. Just like the Genius 350, you can leave the 800 on the cover leading up to opening your pool or put it on in the morning, go to work and not have to worry about it.
Brute Force
Also fully submersible, the Brute Force pumps 1,250 gallons per hour and comes with a 32-foot power cord. Like all the other power pumps, it can attach to a garden hose, but you can also attach this one to a 1.5" hose and drain a lot of volume of water in a very short period of time. Another cool feature is the bottom disc that sinks down and catches leaves and debris, preventing them from getting caught in the pump. The Brute Force can also be used in your basement or elsewhere, if necessary.
Which Cover Pump is Right for You?
We carry all five of these in our stores and are happy to discuss which one makes the most sense for you and your pool. Stop in, or contact us and be ready for opening your pool every year.
We originally posted this content as a YouTube video.