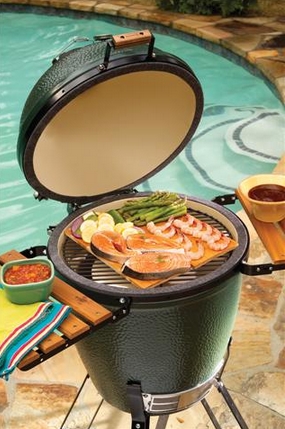 4 Tips To Keep Your Gas Grill Looking New
October 18, 2015
Any grill, no matter the heat source or extravagance, is an investment. A well maintained grill will last longer and function better than a grill that is not cleaned regularly. Light cleanup is usually necessary before each cook to keep it performing optimally. One benefit of consistent maintenance is prevention of off flavors, brought on by acrid smoke and buildup. If storage is necessary for the winter months, it is a good idea to clean it thoroughly before that. Also, remember to check the manual for any special instructions. This article will detail four cleaning and maintenance tips to increase the longevity of any grill.
The Exterior


Important – make

sure the grill is off, and cool to the touch. For stainless steel grills, cleaning can sometimes be

tedious

. In general, use cleaning products that are

nonabrasive

. This means n

ever

use steel wool or metal brushes. Ideally, u

se a

sponge, warm water

and dis

h soap. For stubborn stains, use

vinegar or diluted ammonia.

Water spots can also be tricky to remove on a stainless steel grill – try unsweetened club soda. Also, always follow the grain to prevent blemishes and scratching. Products are available to help restore the shine and luster, as well.
The Grates


First off, g

reasy grill grates

and carbon (the black stuff) buildup on the lid will

not improve the flavor

of the food, despite what others may say. Prolonged grease build up can also cause acrid smoke, which taints the flavor. The biggest risk of leaving grill grates dirty is the risk of a grease fire.

The best way t

o clean the grates

is by using a

scraper

or metal brush

. Simply heat the grill for 15 minutes or so, and use a wet (water) scraper to scrub the grease and carbon buildup off. Please be advised that some cheap brushes lose metal bristles in the process. To prevent these from contaminating the food, use a wet rag to pick up any debris left behind by the brush.

The Cooking Chamber


Scale build up can occur overtime under

any grill hood

.

Scale is a buildup of carbon, soot, creosote, combustion by-products, and schmutz

. Scale

d

ecreases the reflectivity of

inner surfaces

which leads to heat reduction – causing uneven cooking. Usually, if it starts crack and curl, it's usually a good sign that it's time to clean it.

One of the best ways to clean is to use a plastic putty knife and a

vacuum cleaner with a hose attachment

. In short, have gloves, a putty knife, a disposal bucket, soap, water and a vacuum for best results.

Also be aware of any grease disposal laws that may be in affect where you live.
Cover it!
It is essential to cover your grill when not in use. Premature rusting and unnecessary dirt build up can all be prevented by using a cover. This is the easiest way to protect your investment.
Have a swimming pool or hot tub related question?  Contact Zagers Pool & Spa by email or phone at 616.896.1717 today!